March 22nd, 2017 by Mike Vasilinda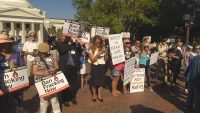 Nearly 200 supporters gathered on the steps of the Capitol today, unhappy anti fracking legislation is having trouble getting a hearing and legislation favorable to utilities is part of the bill implementing the Solar Amendment approved by voters in August. Rethink energy Florida Organizer Kim Ross  says the state must ban fracking and allow local governments to go even further if they want.
"And we are worried about our drinking water. We're also worried about our Floridian aquifer. Fracking uses a lot more water than regular processes for drilling. So we're also worried about draining our aquifer. We don't need to put additional pressure on our acquirer" says Ross.
The group also wants a clean solar bill that will keep property appraisers from raising the value of property because of solar improvements, which is what voters approved last August.
Posted in State News |

No Comments »