April 7th, 2017 by Mike Vasilinda
A bill moving through the legislature limits local government interference with the installation of next generation wireless technology, but  a company trying to pull a fast one in rural Jefferson County east of the Capital, picked a fight with the wrong homeowner.
It was dusk on St. Patricks Day when Nikki Little saw a work crew pull up in front of her 250 acre spread in rural Jefferson county, The crew dug what was to be a base for a 75 foot cell tower.
"And I said, I'm not gonna have a pole here" Nikki told us.
The next day when Nikki saw the tower delivered, she took matters into her own hands, blocking the crew from installing it with her car.
"And he said, Mam, do you realize that this wheel on this will crush you and your vehicle? I said not me cause I'll get out on the side and I need a new vehicle anyway" says Little.
Frantic, Nikki called city and county officials, In the end building officials say the company was not clear what it was building and the planning department dropped the ball, believing it was permitted a utility poll, not a cell tower.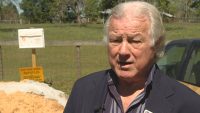 Monticello Vice ViceMayor Troy Avera says the company jumped the gun by not giving residents  a thirty day notice to protest.
"It was March the tenth they pulled the original permit for the utility poll, and on March 17th they started riffing" says Avera, a family friend.
A Stop order was issued and a county truck replaced Nikki's vehicle to keep the work from being completed. Nikki says that didn't stop the company.
"They were still trying two days later to unload more equipment. so I came out and blocked them again."
On Thursday, the County Commission killed the tower.
Not only is the cell tower dead, the County wants the shaft removed.
And had the tower been installed, it would have been  so close to the road it could have been a safety hazard. Nikki believes she not only saved the view from her House,  but maybe even a life.
While the wireless bill moving through the legislature doesn't deal exactly with what happened to Nikki Little, County officials say it is the reason they, not the legislature, need the final say on what is built where. We reached out to Mobillitie, which bills itself as the largest privately held telecommunications infrastructure company in the US. They provided the following statement:
"Transport poles are the future for communities that seek intelligent ways to increase coverage and capacity quickly and efficiently for citizens. This approach delivers high-bandwidth connectivity without digging up roadways and laying costly fiber optic lines. Furthermore, transport pole deployments are essential for next-generation services like 5G; and as urbanization continues to trend, transport pole deployment is essential for delivering advanced connectivity services in environments where dense populations amplify network congestion issues."
Advancing 5G infrastructure will usher in the next wave of technology such as self-driving cars, drones, sensor networks, IoT and more. Here, and elsewhere, Mobilitie is committed to working closely with local jurisdictions to obtain the appropriate permits and entitlements for our technology deployments. These solutions not only deliver the connectivity needed today, but also anticipate the needs of the ever increasingly connected communities of tomorrow." – Mobilitie
Posted in State News |

No Comments »