May 26th, 2017 by Mike Vasilinda
For many Viet Nam era veterans, homecoming was not a pleasant experience. But as Mike Vasilinda tells us, veterans and first responders have a friend in a small chain BBQ restaurant.
Mission BBQ has 8 stores in Florida. Founders believe there's nothing more American than BBQ and the men and women who serve our country.
Watch what happens at noon.
"Ladies and gentlemen, please join us in honoring our country, which we do everyday at noon, with the singing of our national anthem'"
"Oh say can you see by the dawns early light."
Afterwards Applause.
Florida Veteran's Foundation President Dennis Baker invited us to come and meet two veterans at the eatery.
"And he fought in World War II, China Korea, and Vietnam" Baker said as he introduced Maj. John Haynes, USMC (retired).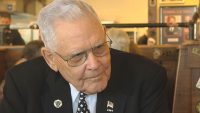 John Haynes tried to become a Marine at 13, got in at 15, spent 30 years serving and saw countless men die.
"Our comrades who gave their all for this county. they really gave two lives. They gave the life they were no living, and they also forfeited the life thatchy would have lived." Haynes told us before lunch.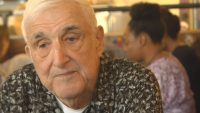 Dale Doss is a one war veteran. Vietnam, where he spent five years as a POW.
"There's so many guys I know who gave the full measure of their life and you always wonder why they went and you didn't" Doss pondered, but was thankful for a full life.
Patrons here were clearly proud of the two vets, both of whom asked us to remind you that Memorial Day is about more than just a good deal at the mall.
The Florida Veterans Foundation is a non profit supporting entirely by donations. It's motto: No Veteran Left Behind.
Posted in State News |

No Comments »