August 31st, 2017 by Mike Vasilinda
The millionaire founder of a South Florida polo club is challenging his DUI manslaughter conviction, arguing before the state's highest court that rules governing DUI blood tests are incomplete. And As Mike Vasilinda tells us, the ruling has the potential of affecting hundreds if not thousands of other cases.
Millionaire John Goodman is serving 16 years in state prison for killing a 23 year old after running up a large bar tab in 2010.  A blood test following the accident shows Goodman registering two and a half times the legal limit.
"Hear Ye, Hear Ye Hear ye."
He has been convicted twice. Now Goodman is asking the Florida Supreme Court for a third trial. His lawyer, Jane Kreisler-Walsh is asking the blood evidence be thrown out.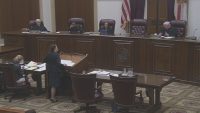 "The FDLE's blood collection and blood alcohol rules ar both inadequate and inconsistent with the core polices of the implied consent law" says Kreisler-Walsh.
His attorney argues small needles cause clotting. and without reporting the needle size, analysts don't know to look for clots, which can skew results.
"May it please the court".
The state was blunt. Goodman has been convicted in two trials. Asst. Atty General
Rachel Nordby says he doesn't deserve a third.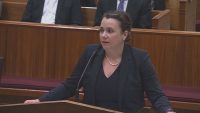 "Goodman's challenge seeks an over broad solution in search of a problem that does not exist" she told the court.
Afterwards, we asked his attorney whether the clots could change the result
Q:"Is it possible it could be off that much?"
"It's possible it could be off that much, but more significantly that there are issues with this blood besides those that I argued here today."
And if this court says needle size does matter, Hundreds if not thousands of cases could be impacted.
If the court were to rule with Goodman, he would get a third trial without the blood evidence. And anyone who has ever challenged a DUI conviction based on blood evidence could also ask to have their case reheard.
Goodman has been in prison since 2012. He is currently in a prison just 25 miles south of state's highest court where the arguments were heard today.
Posted in State News |

No Comments »