October 31st, 2017 by Mike Vasilinda
Someone has been spying on Florida lawmakers. A surveillance camera was found earlier this year in a condo building just blocks from the state capitol where many lawmakers stay. But as Mike Vasilinda tells us, an investigation by the Department of Law Enforcement sheds little light on the who or why.
A hidden camera was found by the State Senate's Democratic leader on the sixth floor of the Tennyson Condominium, just four blocks from the Capitol, back in May. The Condo is a home away from home for multiple lawmakers and at least one statewide elected official.
"I'm hoping to talk to a manager" we asked. They were not on site.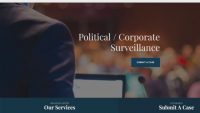 An investigation by  the Department of Law Enforcement traced the camera back to a Gainesville private investigator.
Reached by phone, Derek Uman said he had no comment.
State Senator Jack Latvala was one potential subject of the investigation. He received grainy photos interacting with a lobbyist.
" There have been no inappropriate activity between me and my 20 year Friend."
He spoke with us by phone.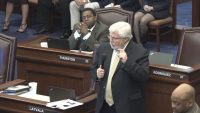 "There's a lot of rumors floating around about different Senators , different folks there're gonna try to target, and a, make out lives difficult" says Latvala. He doesn't discount that he also might be targeted because he is running for Governor.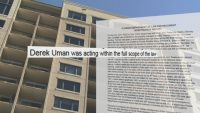 Law enforcement says Uman was acting within the full scope of the law as a licensed private investigator.
"There is speculation, but not proof that the private investigation was being conducted at the behest of a state Senator who was forced to resign earlier this year."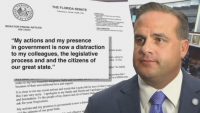 State Senator Frank Artiles resigned last April after making racist remarks and being linked to questionable political spending. We asked if Latvala thought he was at the center of the investigation.
"I don't know" he told us.
The FDLE report also says there was no recording media in the camera, begging the question of whether it was sending video wirelessly to another receiver.
After the private investigator told us he had no comment, we  received a call from his attorney asking for specific questions. We have yet to hear back with answers as to the breath or length of the investigation.
Posted in State News |

No Comments »