November 8th, 2017 by Mike Vasilinda
A formal complaint has now been filed, charging embattled State Senator and gubernatorial candidate Jack Latvala with sexual harassment. As Mike Vasilinda tells us, the Clearwater Senator has hired a law firm.
The Andrews Law firm is know for it's scorched earth, win at any cost policies. Attorney Steve Andrews has written the Senate President, asking for retired law enforcement to investigate claims of sexual harassment and a retired judge to determine probable.
"I'm concerned about a fair shake for anybody because this is a spear thrown at the heart of our electoral process. Because if you can influence a campaign without some accountability or investigation, its a sinister thing" says Andrews.
Andrews first questioned the Senate's opening an investigation over the weekend based on  a report by the political website Politico. That issue is now irrelevant.
Q:"Have you received a sworn complaint."
"Yes, yes I have" Senate Rules Chairman Lisbeth Benacquisto told us.
We asked for a redacted copy of the complaint. We were told it could only be made public at this stage under Senate rules if Latvala were to ask for its release.
Earlier this spring, state lawmakers passed a bill exempting personal information about state employees who come forward with sexual harassment  complaints. the idea was to make sure more people would come forward.
With the complaint, Latvala's lawyers say they now know who they are fighting.
"We can confront an accuser" says Andrews.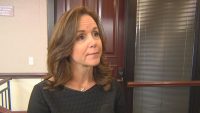 We asked Rules Chairman Lizbeth Benacquisto about a timetable.
"Can it be wrapped up before the start of session. we asked.
"Certainly that is our desire so we can be singularity focused on the work that is before us" says the Senator.
Latvala was in his Senate office Wednesday, behind closed doors. The Senate expects to select a law firm by next week.
Posted in State News |

No Comments »