January 29th, 2018 by Mike Vasilinda
A Bradenton teen who have lived a life of crime at a young age was honored at the State Capitol for turning their life around. As Mike Vasilinda tells us, the teen says he simply got tired of being incarcerated.
17 year old Carlos Lyvia was like a kid in the candy store when he came to the state capitol. What he saw was his future.
"Wasn't in school" he told us.  After three years in detention Carlos had decided he had had enough.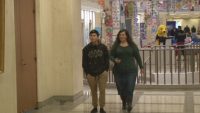 "Just the fact that me being incarcerated all the time and not being around other kids. It's basically like lonely all the time."
His troubles began simply enough, and spiraled.
"My first charge was resisting arrest from a police officer, and thats where that violations probation and stuff like that. I ended up getting in a lot of trouble because of that one incident."
Carlos was one of two previously troubled kids named youth ambassadors by Christy Daly, the Secretary of the Department of Juvenile Justice.
"Carlos is employed full time and despite significant difficulties in his home life, he also graduated from high school" Daly told onlookers.
As Youth Ambassador, Carlos will now start talking to other kids about how and why he turned his life around. His advice:  "Don't let your head down too much. You know, the world can get to you and it's depressing, so I want to say keep your head up, you know."
Now Carlos has big plans. First a nursing degree, and then perhaps, becoming a doctor."
What Carlos has now that he didn't have before, was a drive to succeed.
"I want to make it. I want to be somebody."
Posted in State News |

No Comments »