January 31st, 2018 by Mike Vasilinda
Florida is one step closer to ending child marriages at any age. A ban on marriage cleared the Florida Senate today with a unanimous vote, and as Mike Vasilinda tells us, the state is one step closer to having the strictest child marriage law in the country.
Sherry Johnson as raped at 8, married at eleven, and couldn't legally divorce until she was 18.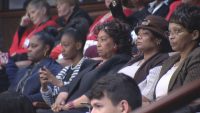 "She is the voice for this bill" says State Senator Lizbeth Benacquisto.
Johnson has spent the last six years fighting for legislation that bans all marriages for anyone under 18.
"Her parents did the unthinkable" Benacquisto told Senators. "They forced her to marry the man who impregnated her as a child."
One by one, state senators praised Johnson's efforts.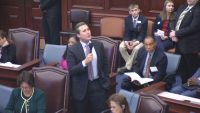 "Thank you from the bottom of my heart for you being able to turn such a negative part of your life into a positive for so many children" said Sen. Rene Garcia.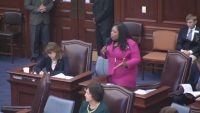 Sen. Daphne Campbell added  "Florida gonna be the first state ever to pass this bill."
"37 yeas, zero nays, Mr President."
And when it came time for a vote, Johnson was all smiles.
"What drove you to make these changes?"
"My passion for children. To not ant them to have to experience the negative things, the negative life I had to experience. And its not necessary. We should always look out for our children."
Right now, there are no exceptions for anyone under 18 to get married. But that could be changing.
Johnson is worried any changes to the legislation will only put more girls at risk of being sex slaves.
"So you worry if there's any kind of loophole, that could be you?"
"Exactly, any type of loophole, who knows?"
A House committee is expected to add exceptions on Thursday. After that, the negotiations begin.
The House committee is expected to add language tomorrow allowing 17 and 18 year olds to marry if pregnancy is involved.
Posted in State News |

No Comments »