February 15th, 2018 by Mike Vasilinda
Two dozen red shirted women delivered petitions to the Senate President, asking for legislation that would require someone who fails a background check for a gun purchase get reported to police. The bills have been pending since the beginning of session but have not moved in committee. Kate Kile says someone trying to buy a gun who shouldn't have it is a danger sign worthy o investigation.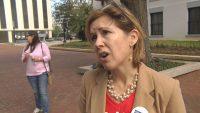 "If someone has a felony, if they are a domestic abuser, if they have a restraining order, thats valuable information to know that that person is trying procure a firearm, so, we fell that's the kind of action we are looking for" says the groups Tallahassee team leader and spokesperson.
Fewer than two percent of the more than one million checks conducted on gun purchasers each year come back with a negative answer.
Posted in State News |

No Comments »