February 23rd, 2018 by Mike Vasilinda
Governor Rick Scott and Legislative leaders today released specific plans to prevent  mass shootings in schools from ever happening again. As Mike Vasilinda tells us the plans are similar except in one area.
"Carmen Schentrup"
Governor Rick Scott began by recognizing Parkland's 17 victims.
"Unfortunately, none of the plans I am announcing today will bring any of them back said Scott after the 17th name."
The Governor's plan calls for hiring an armed school resource officer for every 1000 students in a school, requiring schools add security measures before making other repairs, raising the age to buy any gun to 21.
"We need to be swift and decisive."
Scott would also create a violence restraining order, something sought by police, to take a gun away for at least 60 days. from someone making threats
"60 days is the minimum. After that, you have to go back to the court."
The plan does not ban assault style weapons, which thousands marched for on Wednesday.
"I'm supporter of the second amendment, the first amendment, and the entire bill of rights for that matter" says the Governor.
State lawmakers launched an almost identical plan, and say the 450 million sought by the Governor for security is not out of line. Where they differ is allowing trained, armed, deputized civilian to carry in schools. Sen. Bill Galvano says they would not allow just anyone to carry a gun. They would have law law enforcement training and be deputized.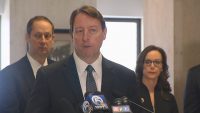 "So law enforcement takes responsibility for them as they would for any other deputy."
Lawmakers highlighted twenty one points of failure. Now they are asking law enforcement to check their records. Sen. Lizbeth Benacquisto (R-Ft. Myers) made the plea.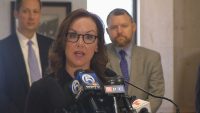 "See if there is another person like this out there. That warnings have been given and tips have been called in."
All agree if the changes had been in place, Nikolas Cruz would never have gotten a gun or kept it.
Posted in State News |

No Comments »