March 8th, 2018 by Mike Vasilinda
School safety legislation approved by state lawmakers last evening has arrived on the Governor's Desk today. And as Mike Vasilinda tells us, Scott will meet with the victims families tomorrow before deciding whether to sign it.
Governor Rick Scott backed up behind this doorway when he saw our camera, as we captured an impromptu meeting with Andrew Pollack. Attorney Genera Pam Bondi was also there, Pollack is the father of 18 year old Meadow, who died in the Valentines day tragedy.
"Since my daughter was murdered, I'm just on a crusade and I got the power of a lion going through me and I'm not going to stop" the father told us.
Scott's office says he will meet with more families Friday before deciding if he will sign legislation. All 17 issued a statement this week supporting it. We asked Andrew Pollack if he had advice for the Governor.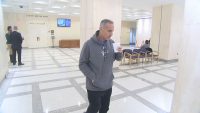 "He's a smart enough guy. He doesn't ned me to tell him what to do next."
The Governor has 15 days to act on the legislation, but lawmakers believe he will act much sooner.
Scott has so far side stepped questions about what he will do.
"I've been clear. I don't believe we should be arming teachers. I believe we should increasing our law enforcement presence at all of our schools" says Scott.
AttorneyGeneral Pam Bondi had this to say.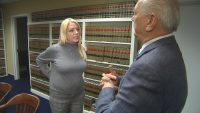 "Am I thrilled with the exact language of the legislation, No. No one is. Do you know what that's called? Compromise." A clear indication what she is advising.
So the bill passes. Read the next bill."
The grieving father is exhausted and doesn't have  kind words for those who tried to kill the legislation.
"Some of them are real people, but you got a lot of empty suits."
Andrew says he will remain in Tallahassee for a few days, another indication a bill signing could come soon.
Posted in State News |

No Comments »