May 10th, 2018 by Mike Vasilinda
Hundreds of candidates have until midnight to report their monthly fundraising totals. Gubernatorial candidates will be reporting six and seven figure numbers, but as Mike Vasilinda tells us, one thirty year Capitol veteran is hoping for just a few thousand.
Tony Knox has shined the shoes of six of the last seven governors. 
"I started with Governor Martinez" he told us as we walked past portraits outside the Governor's Office.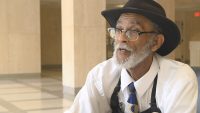 He's hoping to add another to the list after November, when he shines his own shoes. Knox filed the paperwork to run a year go this week.
"Why?"
"It's time for a change"
He's been shining shoes in the Capital City for 30 years
"Can you start a business with a hundred dollars right now?" He asked me. 
Q: "Because you did?"
"Yes. I started with five dollars and fifty-six cents."
All the while supporting a wife and 8 kids.
"We have 8 out of high school. We have three out of college, and we have three in college."
His politics are conservative.
"No more food stamps. Unless you are a senior citizen, handicapped, disabled, or working."
Tony Knox knows he's a real long shot, and he says if he's not at the top of the heap when the ballots are counted November 6th, Florida will get what it deserves.
"It's any given Sunday on the football field. Any given election, a man can win" says Knox.
And his slogan?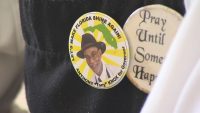 Q:" Donald trump wants to make America great again. You want to do what?"
"Make Florida shine again."
If lightening does strike and he is elected…the first thing we would do is convene all the former Governor's to be his advisors.
Next week Tony Knox hits the road,  down one coast and up the other to raise at least six thousand dollars to pay his qualifying fee. It's due in mid June.
Posted in State News |

No Comments »