June 16th, 2018 by Mike Vasilinda
Qualifying for Governor and other state and local offices begins Monday at noon, but at least one Gubernatorial candidate got a jump on the field, dropping her paperwork off Friday.
Gubernatorial hopeful Gwen Graham was greeted by about forty supporters outside the State Division of Elections.
Graham came to personally file her paperwork to put her name on the ballot in the Democratic Primary for Governor.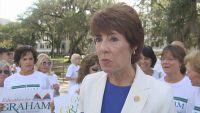 Qualifying doesn't begin for another 3 days, but she wasn't taking any chances. 
State law allows the division to accept the paperwork up to two weeks in advance.
Graham-paid the $5,200 fee, which is equal to 5% of the governor's salary, then spoke to reporters.
"It's not going to be the special interests. It's not going to be the lobbyists," said Graham. "The people of Florida are going to be in charge of Florida again when I am the next Governor."
She's a moderate who angered some constituents when she was in Congress because she didn't always vote along party lines.
Graham is the only Democrat so far to say she isn't in favor of recreational marijuana.
"I think its so important that you firmly implement the will of the people in the area of medical cannabis. Then we can move forward," said Graham.
Candidates don't have to show up. 
They can submit the paperwork, but as Graham proved, when they do show up, people take notice.
There is also a certainty of making sure the paperwork gets filed. 
In 2002 a Fed Ex plane on the way to Tallahassee on the last day of qualifying crashed with paperwork from at least seven candidates. 
After that plane crash, the Governor ordered qualifying extended for a day and a half. 
We won't know until Monday which other candidates have taken advantage of the early filing.
Posted in State News |

No Comments »