December 5th, 2017 by Mike Vasilinda
Public employees could see their unions put out of business if they don't maintain at least a 50 percent membership. And Mike Vasilinda tells us, unions say the idea has more to do with politics than good government.
It is unions, more often than not, that bring hundreds if not thousands to the state Capitol to rally against what they consider bad public policy.
"Enough is enough" chanted a hoard of teachers last year.
And it is Democrats more often than not who get union endorsements.
"Vote them out! Vote them Out." Was the cry of a union rally at the Capitol.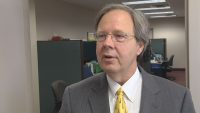 Now a GOP sponsored bill would require at least half of the people working in a unit represented by a union, actually be union members. Sponsor Scott Plakon says it seems only fair.
"One person could claim to represent ten thousand, and again, I don't think that's right" Plakon told a House committee.
While the committee debated, two dozen union members, including Tallulah Thomas, who is a Behavioral Specialist at Florida State Hospital, protested outside.
"We do not do this job to become rich or famous. We do this because we believe in the work" says Thomas.
Not included in the fifty percent membership requirement? Public safety agencies.
Public safety unions are more likely to be bipartisan in their political endorsements.
Florida Education Association President JoAnn McCall pulled no punches when we asked if the bill was union busting.
"This is definitely political" says McCall.  This is about silencing a voice. We have been politically active.  We speak up. We speak out."
It's sponsor, though,  says it's just good public policy.
Q:"Are you trying to bust unions?"
"You know they said that on the House floor last year. And a, again. this is about transparency, democracy, and accountability" says Representative Plakon, who filed the bill last years and in 2011.
The legislation is expected to clear the House early in the legislative session. It's future in the Senate is uncertain.
And opponent are already saying that a court challenge is a certainty of they legislature tries to take away their rights to bargain.
Posted in State News |

No Comments »