October 11th, 2016 by Mike Vasilinda
A recorded confession by the get away driver in the murder for hire of an FSU law professor appears to indicate the ex-wife was aware of the plan before it was carried out. As Mike Vasilinda tells us, proving that may come down to how much the latest person charged in the case cooperates.
Katie Magbanua was nervous as a cat as she waited for the judge in her video first appearance.
"All rise" ordered the bailiff.
She is the mother of two children fathered by accused triggerman Sigfredo Garcia. The 32 year old was brought to Tallahassee Monday after being charged earlier this month the with murder of law professor Dan Markel.
"Your client will be held without bond" say Judge Lane Smith.
Magbanua was arrested when get away driver Luis rivera started talking.
"Katie is the one in the middle doing everything. Put it like that" rivera told investigators in the case.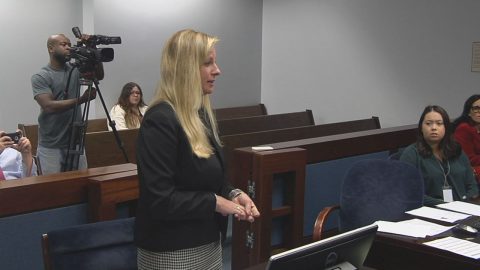 Prosecutor Georgia Cappleman says Magbanua is the key to tying the law professor's ex-wife's family to the murder plot.
"If I was to be able to charge a member of the family as being implicated as part of the conspiracy, I would require a witness, possible such as Ms. Magbanua" said Cappleman after the hearing.
Luis rivera told investigators he learned early on the motive for the hit. "That lady wants her two kids back. She want's full custody of the kids."
As Rivera and alleged triggerman Garcia cruised this neighborhood the day before the murder, Rivera told investigators they saw Wendi Adelson, walking with her two kids.
"What is she doing up here? Rivera asked Garcia, who know who she was.
"She came to make sure everything is alright because he's leaving out of town tomorrow" responded Garcia, according to the statement Rivera gave police.
We asked lead prosecutor Cappleman what she thought of the new twist.
"Do you believe this implicates her?"
"I think if it's true, it implicates her, but I haven't been able to confirm or deny that."
And because of the taped confession, we now know the three co conspirators divided up a hundred thousand dollars the day after the murder.
Police have long suspected the law professors former brother-in-law and his parents in the conspiracy, but the addition of the ex-wife in the new testimony has comes as a surprise to many close to the case.
Posted in State News |

No Comments »