October 21st, 2016 by Mike Vasilinda
A lawsuit filed in Southeast Florida alleges that the medical marijuana amendment was left off some mail in ballots.  Attorneys say they aren't sure if it was a half dozen, ten thousand or a hundred thousand ballots.
A quarter million mail ballots have gone out Broward County, 60 thousand have already been returned. At least one ballot without the medical marijuana amendment was reported last week.
Elections law expert and former Al Gore attorney from the 2000 election, Mark Herron says the first step is figuring out how widespread the mistake might be.
"So I think the court needs to figure out is the nature and scope of the problem. How broad or deep is it" says Herron.
Attorney Norman Kent filed a lawsuit Thursday on behalf of voter Karen Goldstein. In it, He called the consequences potential catastrophic and cataclysmic.
"Anybody who was sent out a voting ballot without amendment two on it, have immediately reissued a new ballot" Kent told us by phone.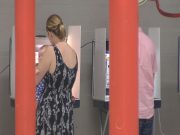 One theory was that it was a collating error. each precinct has a different ballot style and a clerk simply grabbed the wrong page three.
If collating is the problem, Attorney Herron believes the number of bad ballots could be limited.
"But with respect to people who have  already voted, I'm not sure you can correct that problem" he says. we asked about a  recount.
Q: It is reasonable to  do a recount on all the absentee ballots that are still out and see if that question is there?"
Heron responded "I think that would be part of the effort to deal with election day counting."
In 2014, voters in Broward approved Amendment two by the biggest margin in the state.
The Broward Supervisors office is not with out problems. In August, the office was criticized for releasing election results a half hour early. the office has also been criticized for sending out inaccurate voters cards and once printed yes in the no line of a tax referendum.
Posted in State News |

No Comments »