November 10th, 2016 by Mike Vasilinda
Today was the 27th year in a row that ROTC Cadets at Florida State University began ceremonially guarding the Viet Nam Memorial across the street from the Capitol. The students will spend 24 hours at the memorial, with each doing a one hour shift. Cadet Charles Preyser says their presence is a reminder to all to honor veterans past and future.
"To honor them. to embrace veterans of today. These are going to be the soldiers of our future because we are all Army cadets. Um, so yes to memorialize those who have passed in wars past" says the Cadet.
The cadets will be at the memorial until 11 am tomorrow.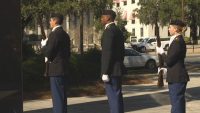 Posted in State News |

No Comments »