November 22nd, 2016 by Mike Vasilinda
Hours after their election was made official, 160 members of the state legislature were sworn in today, and along with them, as Mike Vasilinda reports, were new leaders promising tough reforms.
It was a day of ceremony, not policy.
"Who broad strips and bright stars" sang the Boys Choir of Tallahassee.
Three of every ten members sworn in are new to the legislature."so help me god."
Newly elevated House Speaker Richard Corcoran of Pasco county is proposing a drain the swamp approach when it comes to lobbyists.
"We can make this a moment off greatness, and push back and tell the people of Florida  that we will fix their broken system" Corcoran told members.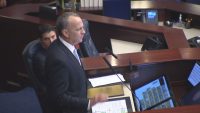 On the other side of the legislature, Senate President. Joe Negron of Stuart is proposing less ideology and more spending for education, particularly colleges and universities.
"Every student should be able to attend the University to which he or she is admitted. that doesn't mean you go for free" says the new Senate President.
There are 46 new members here in the House,. 18 across the hall int he Senate. that bumper crop makes the legislative leadership even more powerful."
The two control the temperament of the legislature, especially in the heated finally days when budget negotiations put everyone on edge.  This year could be more problematic than many. That's because new house rules pushed by Corcoran will forbid the House from taking up any spending added in the final hours of negotiation.
"Keep in mind here, we're talking about projects. we're talking about earmarks. We're talking about pork belly fat. We're not talking about stuff that makes the trains run on time" the new Speaker told reporters afterwards.
One safety valve in the heated process? Lawmakers can waive the strict rules with a 2/3rd vote.
Posted in State News |

No Comments »