December 9th, 2016 by Mike Vasilinda
A judge in the state capitol has spent all day listening to arguments that he should grant bail for a woman accused of being the arranger in a murder for hire. As Mike Vasilinda tells us, the defense says the case comes down to a bad guy getting leniency for lying.
Katie Magbanua is the alleged go between in the murder for hire plot of an FSU law professor. Dan Markel was killed in 2014. She is the mother of the alleged triggerman's children and a one time girlfriend of the slain law professors brother in law. Her lawyer, Chris DeCoste says prosecutors need to keep her in custody to convince her to help.
"They want her to lie. No cooperate. They want her to lie" he told the judge.
But prosecutors contend a large influx of cash, breast enhancements, and a Lexus sold far below market value were part of the payoff to Magbanua.
Tallahassee Police Investigator Chris Isom told the court Magbanua deposited more than 44 thousand in cash following the murder.
"This is cash and this shows the spike in August 2014, immediately after the homicide" says ISom.
Prosecutors told the court they recovered a gun. they did not say it was the murder weapon.
Defense attorneys spent much of their time trying to undermine the testimony of a third defendant…Luis Rivera.
"This case rests on the shoulders of Luis Rivera, wouldn't you agree?" asked DeCoste
"No." resounded Isom.
Prosecutors played a handful of taped phone conversations between Magbanua and former brother in law charlie adelson. In one, he is encouraging her to leave the country.
"To live in that country, you are rich as (expletive) and you ar not working"
Lead Prosecutor Georgia Cappleman says flight is a very real possibility.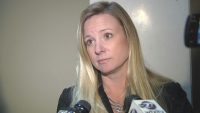 "Is that a fear if she gets bond?"
"That is a fear. we are very concerned about  her fleeing and the possibility she could flee" says Cappleman.
The first degree murder trial is set for late February.
The third defendant, Luis Rivera, plead guilty and is cooperating. He is serving 19 years for his role in providing the gun used in the murder.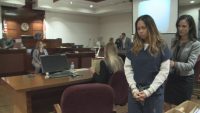 Posted in State News |

No Comments »