December 14th, 2016 by Mike Vasilinda
Visit Florida CEO will Seccombe says he has been pushing rap artist Pit Bull to release the details of a contract with the agency for more than a year. The contract for the Sexy beach promotion by Pit Bull has resulted in the Speaker of the House suing the rapper over a confidentiality clause in the contract. Seccombe says he's hopeful the suit will soon be moot.
"I can't really comment on the contract" says Seccombe, "but I am very hopeful that Pit Bull and his team will release the details of the deal because it would be a very good thing for the state of Florida and it will really highlight what a great deal the state of Florida got in the Pit Bull program last year."
Because of the controversy, Visit Florida says it will never enter another agreement with a confidentiality clause.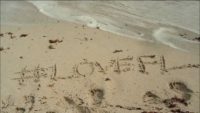 Posted in State News |

No Comments »