January 25th, 2017 by Mike Vasilinda
Florida's police chiefs, sheriffs and the highway patrol spent the morning telling lawmakers about safeguards they would like to see in medical marijuana legislation. Those rules range from local zoning control to packaging to having access to who has been prescribed marijuana.
If you are stopped by police and they find pot that's been prescribed to you legally, they want to verify that quickly. Today, the states major law enforcement organizations asked lawmakers to make sure they have access to who can consume legal marijuana. and they want restrictions on edibles.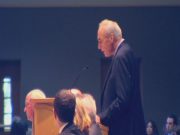 Miami Beach Police Chief Daniel Oates was in Colorado when medical marijuana ramped up in 2009.
"Law enforcement wasn't able to determine who was lawfully in possession of marijuana" he told lawmakers.
One suggestion was to require patients to carry a card identifying themselves. Another was to require medical marijuana be kept n the package it came in.
Pinellas County Sheriff Bob Gualtieri drew a parallel to people caught driving high under the influence  of legally prescribed medications.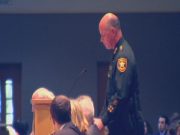 "Just because you have a certification for medical marijuana, you still can't drive under the influence" says the Sheriff.
Lawmakers also asked Andrew Freeman, a former Colorado official, about people showing up to work stoned.
"We did not get feedback from employers that that changed all that much" he said.
A bill already introduced would allow police to take blood samples if they think you're driving stoned.
But patient advocates, like Jodi James from the Fl Cannabis Action Network call the idea of testing for pot intoxication unworkable.
If you are routinely using high levels of TCH, you blood level is going to be very high and your intoxication level is likely to be very low."
Law enforcement also suggested limiting medical marijuana to just Florida residents, saying they want to prevent marijuana tourism.
Colorado officials also suggested Florida ramp up a marijuana education program for teens and young adults before medical marijuana becomes more widespread.
Posted in State News |

No Comments »