February 2nd, 2017 by Mike Vasilinda
The man behind the successful Constitutional Amendment for medical marijuana was in the state Capitol today, where John Morgan is sounding more and more like a candidate for Governor.
John Morgan says he spent ten million passing the medical marijuana amendment. It got 71 percent of the vote.  And a successful trial lawyer, his name is plastered on buses and buildings. Now, there is a draft John Morgan for Governor movement. John Clark even brought buttons to the Capital City tiger Bay luncheon.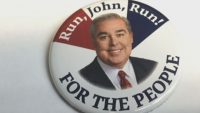 "He is a good strong man that we need for Florida" says Clark
Morgan himself is undecided. He talked about the negative personal attacks in the marijuana campaign as an eyeopener of what could come.
"Does this fit my success to significance, or is really just an ego trip that might destroy me in the end. Those are the things that I think about" says Morgan.
But it's clear he has been thinking about the issues on which to run. At the top of the list, a higher minimum wage.
"People do not make enough money to survive" Morgan told the crowd.
Morgan calls the idea of private prisons misplaced, says he would end the war on teachers.and told the crowd to stop criticizing the President.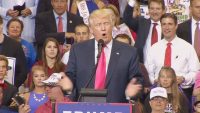 "We got to hope he succeeds, don't we" asked Morgan.
He would also decriminalize marijuana.
"The war on drugs has failed. It's a great failure."
Morgan and Morgan spends 80 million dollars a year on advertising, and that means John Morgan doesn't have to make a decision for another year or so.
And as he concluded an hour long speech, it was clear the highly political crowd was impressed "I think you could be a suburb Governor" said a Gwen Graham supporter.
Morgan says if he runs and wins, he would only serve one four year term, then go back to his life.  In addition to being a lawyer, Morgan owns stakes in hotels, a casino and more.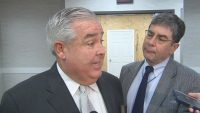 Posted in State News |

No Comments »