February 3rd, 2017 by Mike Vasilinda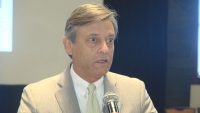 House leaders were livid when retiring Supreme Court Justice James E. Perry was given an appointment to finish working on the cases in the pipeline when the year ended and his mandatory retirement kicked in. House Speaker Richard Corcoran threatened a lawsuit. But Governor Rick Scott quickly appointed a replacement for Perry and Chief Justice Jorge Labarga shortened Perry's extension until the end of January.
"I basically terminated Perry's help on January 31. So I figured that now that we know we got a justice, thirty days should be enough time to finish what you are working on and get those out" says the Chief Justice.
The Chief Justice says Perry worked without pay. He added the extended appointment is allowed in the Constitution and the last ten Chief Justices has issued similar orders extending Justices service until they are replaced.
Posted in State News |

No Comments »