February 14th, 2017 by Mike Vasilinda
Judge Andrew J.

Decker is a circuit judge in Jasper, near Lake City. He has been accused of lying about improprieties as a lawyer when he was running for judge. It has been more than a year since he was first asked but he Supreme Court to show cause why he should not be kicked off the bench, but he did not respond, and the court has not taken action. that got the attention of state lawmakers. Committee Attorney Carine Mitz says there may be cause for impeachment.
"The House must determine if there is probable cause to believe Judge Decker committee a misdemeanor in office in order to proceed with impeachment proceedings. He may have provided untruthful  testimony as a sitting judge under oath before the JQC."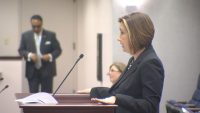 We asked Committee Chair Larry Metz if the discussion was a message to the court  to  deal with this or we will?"
"No, I wouldn't go that far" responded Metz. "It's something we are trying to draw attention to because it has been languishing too long across the street at the Supreme Court.  And if you consider what the nature of the inquiry is, its whether the judge should potentially be removed from office. that's what the order to show cause addressed.  So that being the case, , one has to wonder why it would take more than a year to get to a conclusion on that."
If the court does not act, the House would have to call witnesses and take testimony to determine if the judge did in fact lie before the Judical Qualifications Commission.
Posted in State News |

No Comments »