February 20th, 2017 by Mike Vasilinda
The oldest surviving officer from the battle of Iwo Jima has died. Lt. General Larry Snowden passed away over the weekend at the age of 95 in the state Capitol. And those who knew him call him a Marines Marine, a Generals' General, or just hero.
Larry Snowden was a 23 year old Captain commanding 200 men at Iwo Jima.
Snowden told us in 2013 that one of WWII's most famous battles was far different than the romanticized version.
"I"ve read many accounts that says when the flag went up, the troops all over the island stood up and cheered. No way. Where I was, you stood up, you were a dead Marine" says Snowden."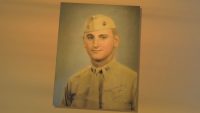 Snowden was wounded twice, and went back into action despite having a year and a half old son at home.
"And I had a momentary flash of what it would mean to me is somebody were telling me that my son is dead" he added.
For many, like Col Glen Sutfin, the Secretary of the Department of Veteran's Affairs.  just knowing him was considered an honor.
"He is skillful and courageous in battle. He was gracious to the defeated. He always took care of his troops, and they necessarily didn't have to be on active duty with him. It didn't matter where they were.If they were troops, veterans, he took care of them" Sutfin told us.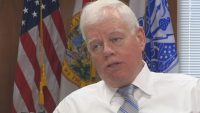 Snowden went on to fight in Korea and Vietnam. He thinks returning vets got a raw deal.
After his tour in Viet Nam, Snowden said its okay not to like the war…but "We didn't win that war to my satisfaction. But that was not the fault of our troops. that was the fault of our political leaders who decided to settle for something less than victory."
Snowden passed at age 95 over the weekend. He never failed to live up to the Marine Corps motto…Semper Fi, Always faithful.
Lt. general Snowden died a day short of the 71st anniversary of the invasion of Iwo Jima. Until a year ago, when his health started failing, he was an active speaker on veterans issues.
Posted in State News |

No Comments »