February 21st, 2017 by Mike Vasilinda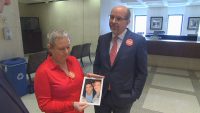 31 year old Gerald Wright was one of the victims in last years mass shooting at the Pulse night club in Orlando. Today, ,his parents, Fred and Maria Wright joined dozens of other in the Capitol to push lawmakers to stop a handful of bills they believe would expand access to guns.
"And we're just asking out legislators, please, we need common sense. we don't need more gun violence victims. Out son was 31 years old. What happened to him was terrible, but we're having too much gun violence, and more guns in more places, in more hands is not the way to solve this issue" Mafia said, holding back tears.
A study by "Moms Demand Action for Gun Sense in America" released today shows 75% don't want guns on college campuses;69% don't want armed personnel in schools, and 68% are against open carry. The survey also found that only 43 percent are willing to hold lawmakers accountable for their votes.
Posted in State News |

No Comments »