February 23rd, 2017 by Mike Vasilinda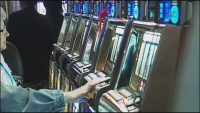 A Powerful Senate committee at the State Capitol today approved sweeping new gambling legislation that continues a compact with the Seminole Indians. The deal with the tribe expired more than a year ago and has been the subject of lawsuits. Sponsor Bill Galvano says reaching agreement would mean the seminoles would continue paying the state hundreds of millions each year.
"Inaction is not a choice" galvano says. "if you just say no, you ar basically saying, courts take care of it. or just leave it operand we'll go with the tide will have impact, because the revenue share is important. That's why inaction is not an option.
The legislation also increases the states take from parimutuel facilities by as much as 250 million a year, expanding slot machine to those counties where voters have approved increased gambling.
Posted in State News |

No Comments »