March 1st, 2017 by Mike Vasilinda
Tallahassee Mayor Andrew Gillum has become the first credible Democrat to file to run for Governor, but the field is likely to get crowded before the race even begins.
Tallahassee Mayor Andrew Gillum filed his paperwork late Tuesday,  then released this video in the pre dawn hours Wednesday.
"I can't wait to move forward a vision in this state that puts people to work at every rung of the income level. That's what I want to do for the state of Florida" Gillum said in the video.
The filing came hours before the Tallahassee mayor found himself apologizing. He had used city software to send out political emails for the Clinton Campaign. The action brought fire from the Leon County Republican Party Chair Evan Power.
"He's running for Governor a lot like he was Mayor of Tallahassee. Unprepared and unready to face the challenges" says Power, who was critical of the mayors management of lengthy power outages during Hurricane Hermine.
Gillum declined to meet with the Capitol Press Corps, his spokesman saying the video speaks for itself, an unusual move for an aspiring candidate.
The field is likely to be crowded. Lawyer John Morgan sounded very gubernatorial candidate when he visited the Capital on February 2nd.
"Tell everybody what you think. An either that picks up steam, or falls off the rail." Morgan added it didn't matter if he made the race or not, saying his life would not change dramatically either way.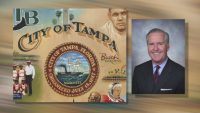 Tampa Mayor Bob Buckhorn is being courted to run. Statements suggest he is unsure.
But One term Congresswoman Gwen Graham has left little doubt she will run for the office once held by her father.
"And I am really really excited about the future, And I am really excited about the future of a state that I love" Graham told supporters during her final news conference in office last December.
Miami Beach Mayor Phillip Levine is also considered likely to join the race.
"How best to serve my community and my state?" Levine asks in a video.
Three republicans are also teeing.  Agriculture Commissioner Adam Putnam, State Senator Jack Latvala, House Speaker Richard Corcoran.
If elected, Gillum would be the first African American ever elected Governor in his own right. A political advisor to Attorney General Pam Bondi says she is not currently thinking about a race in 2018.
Posted in State News |

No Comments »