March 15th, 2017 by Mike Vasilinda
By a vote of 23 to 15 The Florida Senate this afternoon approved changes to the Stand Your Ground law, shifting the burden of proof during initial hearings from individuals to prosecutors. Prosecutors worry the change will increase the number of Stand Your ground cases.
A Supreme Court ruling created a preliminary hearing when someone asserts Stand Your Ground. It requires a person to prove they were in fear for their life.
"And he stopped in the middle of the road and will not move his vehicle."
But Lawmakers say the ruling turned their intent upside down. Sponsor Rob Bradley  wants the burden to rest with prosecutors.
"The government should rightfully carry the burden from the time of arrest until the end." said Bradley on the Senate floor.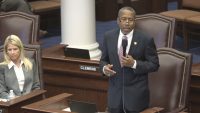 Democrats, including st. Petersburg's daryl Rouson opposed the legislation.
"And what we do here has consequences" he warned.
"23 years, 15 nays Mr President."
Audrey Gibson of Jacksonville fears the worst.
"This isn't a gun bill, its a murder bill" say Gibson.
Prosecutor Bill Cervone of Gainesville worries the number of cases claiming self defense will skyrocket.
"Be it a person involved in a domestic violence situation who wants to claim the  victim him him first, therefore he was entitled to assault her. It involves any weapon, not just firearms" says Cervone.
The legislation has been a top priority of Marion Hammer, for NRA President.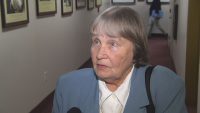 "The burden of proof is about protecting law abiding people from abusive prosecutors" says Hammer.
The bill now goes to the House.
The House has more than 40 co sponsors. Some of those are suggesting that they will try to appease prosecutors.
No hearing has yet been scheduled in the lone House committee assigned the bill, giving prosecutors more time to press their case.
The 23 to 15 vote was along party lines with just one Republican joining Democrats in opposing the bill.
Posted in State News |

No Comments »