March 16th, 2017 by Mike Vasilinda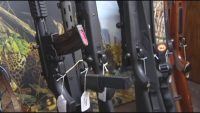 Legislation has been filed to close the so called "gun show loophole" when it comes to background checks for gun purchases. Under current law, individuals selling or giving guns to another person, as long as they are not in the gun selling business, do not have to runs a background check. State Senator Gary Farmer says the law needs to change.
"If you are a domestic violence offender, If you're someone with a checkered criminal past, if you are someone who's mentally imbalanced, what are you going to do?  You're gonna wait and go to a gun show and not have to undergo any background check. that is simply wrong. It's an easy fix" says Farmer.
Licensed gun dealers are required to run background checks, even at gun shows. But sales between individuals are not regulated. The legislation would require checks on every transfer of a firearm.
Posted in State News |

No Comments »