March 21st, 2017 by Mike Vasilinda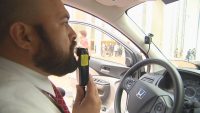 Legislation to require all DUI offenders to use an ignition lock to prove they are sober before driving has been watered down. A compromise now encourages first time offenders to use the interlock devices for six months in exchange for having the DUI disappear off their record. Rep. Cord Byrd told committee members a second offense would bring harsh penalties.
"To be eligible for a withhold, the first time offender can not have a prior criminal history. The withhold would allow the first time DUI offender to have his or her DUI records sealed, so they would be able to not report that on an employment application, however law enforcement would still have access to the information such that the person is arrested again for DUI, that would show up on their record" Byrd explained to the committee.
The devices cost about three dollars a day and are the responsibility of the motorist.
Posted in State News |

No Comments »