March 21st, 2017 by Mike Vasilinda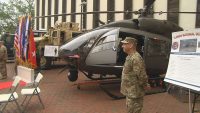 Machine gun armed National Guardsmen roamed the Capitol courtyard filled with tanks, bomb disarming robots, and men repelling from the roof of the capitol today. Each year, the Florida National Guard puts on a display of men and equipment. Major General Michael Calhoun says its an effort to remind lawmakers about what they do everyday.
"For them to show their support to us is tremendous. To give back to the communities . to be here to see where it all starts. Hear the support from the Governor, so its a fantastic day to collect right here to see the displays and we can show you what we do when you don't normally see it" says the General.
The National Guard has been called out more than one hundred times in recent decades and they are often the first on the ground when a hurricane strikes.
Posted in State News |

No Comments »