March 23rd, 2017 by Mike Vasilinda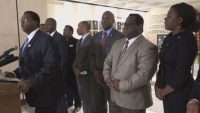 The Florida Black Caucus said today the Governor overstepped his authority when he took a murder case out of the hands of State Attorney Aramis Ayala after she said she would not ever seek death sentences. They want the Governor to rescind the order. State Senator Audrey Gibson says the decision should be left up to voters.
"The people of that circuit elected her. She made her case, apparently and won that election..They trust her judgement, and the Governor should have stayed out of it."
But the Fraternal Order of Police are livid. President Robert Jenkins described security camera video showing suspect Markeith Loyd executing the Orlando officer after killing his pregnant girlfriend.
"This this isn't as normal a case where you would seek the death penalty I don't know what would be. The officer , Lt. Clayton was executed. Not just killed, shot. She was executed on video. Its not a race issue. Its a fiduciary responsibility, her duty to perform the laws."
Many have called for Ayala's removal from office. Governor Rick Scott has said he is considering all his options.
Posted in State News |

No Comments »