April 6th, 2017 by Mike Vasilinda
Sirius XM and other digital streaming services charge a fee to listen, but should they be required to pay artists who recorded music before 1972. That's the question that was before the Florida Supreme Court today,  brought byformer members of the band The turtles.
This 1967 performance by the Turtles has garnered over six and a half million views on YouTube. Not a dime has gone to the artists.
Now, two of the founding band members, know as Flo and Eddie, are suing Sirius XM for not paying a royalty every time they play one of the turtles songs.
"This is simply high tech piracy. the fact thats now copied in bits, there's no license for that" Flo and Eddies attorney, Henry Gradstein told the justices.
Sirius told the states high court that since the recording was made before current Federal copyright laws, the mere purchase of a record entitled them to play it for others for free,
"When this state said by statute, when you sell a record, you're giving up all your rights"explained Sirius Attorney John Hacker.
The suit was originally filed in Federal court, the State was asked to sort out what common law had to say about ownership.
At one point during the argument, the court asked Do people even know what these are today?"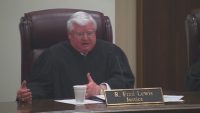 Justice Fred Lewis questioned whether the law has kept up with these digital times.
"That audio can be used for profit, just as though it were copied. Just as though that record were reproduced" said the Justice.
Afterwards both attorneys rushed to catch a plane.
Gradstein had these parting words:  "Everyone who has a financial stake, except of the composers, in the record is not getting paid."
Hanging in the balance could be tens of millions due virtually every artist who recorded before 1972 .Making all of them  "So Happy together"
Several justices were critical of the Turtles claims, suggesting no court has every upheld their position.
Posted in State News |

No Comments »