May 3rd, 2017 by Mike Vasilinda
Florida lawmakers failed to meet a midnight deadline agree on the state's budget. they now plan to take a vote on Monday during a costly extended session. But as Mike Vasilinda tells us, their work may no the over if Governor Rick Scott decides they should have done more for economic development.
House members were greeted Wednesday with critical words in their opening prayer from Rev. Andrew Miller of the Azalea Park Methodist Church in Castleberry
"Help us to see common ground in this putrid political mess we have created" lawmakers were told.
The admonition rubbed Representative Heather Fitzenhagen the wrong way.
"I wanted to an inspirational prayer. Not one that I found to be demeaning to the process"
Fitzenhagen says getting the budget right was more important than getting it on time.
"We strive to be on time. We strive to do the right thing."
A fifty million dollar shift in hospital funding finally broke the log jam here.
At midday, House and Senate budget negotiators zeroed in on the remaining differences. A final vote is set for Monday.
House Speaker Ricard Corcoran says the one day of overtime is limited.
"And we will extend only for budget and budget related bills." Corcoran told the House.
Senate budget chief Jack Latvala says Rick Scott isn't likely to be sparing with his veto pen. That's because there is no money for economic incentives.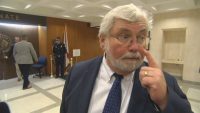 "And he has the right and responsibility to review our work and then approve it or disapprove of it, and I expect to see some of both" says Latvala.
And to that end, Scott began a three day, ten city tour of the state to bash the legislative funding plan. Here's what he said in Tampa. "If we don't fund Enterprise Florida, we're going to have fewer jobs. It's as simple as that."
Which means lawmakers could find themselves back again for a long and costly overrate session this summer if they don't budge on economic incentives.
Scott also criticized lawmakers for conducting most of their budget negotiations behind closed doors, saying he didn't know what lawmakers were spending on education other big ticket items.
Posted in State News |

No Comments »