May 18th, 2017 by Mike Vasilinda
The Florida Supreme Court today ruled voters can not authorize slot machines except in two south Florida counties. As Mike Vasilinda tells us, the ruling means that votes authorizing slots in eight counties are invalid.
In 2012 Gasden County became the first county to authorize a vote to legalize slots. Organizers promised more jobs.
"Vote yes" said paid sign wavers in front of the Courthouse in Quincy.
Seven other counties followed suit. Each was denied a permit by the state.
Last June, the case went to the State Supreme Court.
The state held firm.
"The legislature did not intend to legalize slot machines statewide when  it changed the eligible facility definition" Justices were told by State Solicitor General Jonathan Williams.
But slots backers said lawmakers intentionally created a loophole.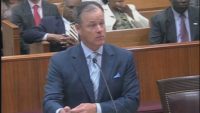 "First you have to get a county commission to authorize a referendum, that's what that language means. Second, you have to pass the referendum" saidLawyer Marc Dunbar.
After nearly a year. The Supreme Court has said the votes were not legally binding and said the law "limits licenses to Miami-Dade and Broward Counties."
Before the ruling, the prospect of more slots was one of the reasons anti gambling advocates began circulating petitions to ban all future gambling expansion without voter approval.  That petition is still something lawmakers will have to deal with.
No Casino's John Sowinski calls the ruling a partial victory. but says he will continue their push for a constitutional amendment.
"We've got almost two hundred thousand signatures of the million plus we need in order to put it on the ballot. we're well on track so voters can decide this issue once and for all" says Sowinski.
If the initiative gets on the 2018 ballot, unlike this time, voters will have the final say one way or the other.
Organizers issued a statement saying they were disappointed and were considering their next move.
Posted in State News |

No Comments »