May 26th, 2017 by Mike Vasilinda
Lawmaker have yet to send the budget to the Governor, but Florida Taxwatch is out with its list of 111 items it says should be vetoed because they were stuck in the final budget without going through proper channels. The budget watchdog says lawmakers did a better job this year than most of not hiding projects. ButVP for Research Kurt Wenner did take issue with much of the final budget being negotiated behind closed doors. They are asking the Governor to veto the items.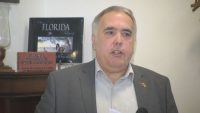 "We're pointing them out to the Governor. It's up to him to make that call, l but we're pointing out areas where we feel the legislature fell short of what's required for deliberation and consideration" Wenner told reporters.
The budget is expected to go to the Governor next week. One he has it, he has 15 days to decide if he vetoes the entire budget, just parts of it, or allows the spending to take place.
Posted in State News |

No Comments »