June 9th, 2017 by Mike Vasilinda
Legislation implementing the medical marijuana amendment voters approved last fall is on it's way to the Governor.  As Mike Vasilinda tells us the measure bounced back and forth between the House and Senate over a controversial amendment, but was approved in the legislature's final minutes late this afternoon.
In the middle of debating medical marijuana, the Senate recessed for a half hour to draft a last minute amendment. The half hour tuned into an hour and a half.
"So they are compliant with certification, that's the bill" Sen. Denise Grimsley told Senators.
The amendment gave the seven existing growers a year to comply with food safety rules, but required new licenses to meet the standards right away. it was later removed by the House. For Sen. Tom Lee, it pinpoints what the legislation is about.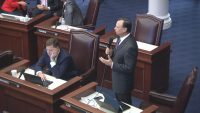 "It becomes a whole lot more about money" says Lee.
To smoke or not too smoke drew the most fire during debate.  Sen. Kevin Radar says voters have expectations.
"I believe they all thought that the way they are going to be using this medicine for medical purposes is by smoking. I think that's what everyone actually believes in their heart" says Radar.
Gainesville Senator Keith Perry likes the smoking prohibition.
"We're going to treat this like a drug and this drug is a medicine, then this needs to be administered in a form that will not cause further harm to the patients" says Perry.
Ocala's Dennis Bailey told Senators he was voting no for his grandchildren.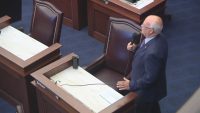 "No matter what's in the constitution, I still have concerns about this whole direction" says Bradley.
"28 yeahs, 8 nays."
Mike Vasilinda Standup
"And the legislation also has money for Moffitt Cancer Center to begin researching medical marijuana."
Rene Garcia was also one of the eight no votes.
"The fact that you can't smoke it goes against what the voters of the state of Florida want" say Garcia.
The legislation is likely to face a legal challenge over the smoking issue.
In addition to a court challenge on smoking, the legislation is also likely to be challenged because it allows local governments to ban dispensaries within their borders.
Posted in State News |

No Comments »