July 5th, 2017 by Mike Vasilinda
A white supremacist who killed two black men in 1987 could be the first caucasian executed in Florida for the killing of an African American. Governor Rick Scott has set August 24th for the execution of Mark James Asay, but as Mike Vasilinda tells us, a ruling giving some on death row new sentences, but not others, could lead to a lengthy delay.
Mark Asay, who's execution is set for August 24th is one of about 200 death row inmates whose convictions were final before 2002.
Florida's Supreme Court has ruled anyone convicted after 2002, the date of a U-S Supreme Court ruling, is entitled to to have a new sentencing hearing and that the jury must be unanimous. Convictions finalized before 2002 are stuck with the sentence they got, even though juries could recommend death on a 7-5 vote.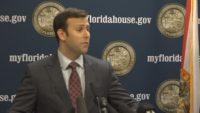 On the day the State House approved the unanimous jury law, Judiciary Chairman Chris Sprowls called the courts decision unusual.
" I know of no other situation, where there has been a court decision on constitutionality where there was partial retroactivity. This is the only one I am aware of" said Sprowls.
Asay's jury recommended death, twice, but only by 9-3 votes. Now his attorney is expected to tell the US Supreme Court it is unfair to execute Asay when others with 9-3 votes get new sentencing hearings, simply because they were sentenced later.
Mark Schlakman is a human rights attorney who has pushed for a review of the the death penalty for almost a decade.
"Where that line is drawn would not satisfy all parties would be an understatement. And then, it's reasonable to assume that line will be challenged" says Schlakman
A second avenue of appeal open to Asay would be a challenge to a new set of lethal cocktails adopted by the state but never used in Florida.
At least 150 death row inmates are expected to get new sentencing hearings, which could take years and cost millions. It has been 18 months since Florida carried out an execution after the courts threw out Florida's sentencing scheme.
Posted in State News |

No Comments »