July 18th, 2017 by Mike Vasilinda
In the entire United States, AAA Motor Club says there are only two cities it calls speed traps, Lawtey and Waldo Florida. As Mike Vasilinda tells us, the driver centered organizations now says it is considering changing their designation.
Lawtey and Waldo Florida are both on heavily traveled US 301. Waldo abolished its police force in 2015 after officers admitted ticket quotas were a reality. Lawtey has four full time officers and the chief.
Officer Jay Raulerson works morning in Lawtey.
"36, 37."
His first stop, a correctional officer doing 37 in a residential neighborhood. The posted speed limit, 20. Raulerson's message to the driver:  "The Chief's been getting a lot of complaints of people speeding up and down through here." The DOC employee got a break. Our crew replaced the printer that Raulerson would have used to issue a ticket.
Shane Bennet was elected Police Chief in Lawtey in 2014, after the previous chief of 52 years retired.
"The city of Lawtey, on a citation that's a hundred and ninety six dollars, Lawtey only gets about thirty six dollars of that.So it's not the cash cow that people think it is, and quite certainly its not our goal. Our goal is traffic safety" says the Chief.
Police here average 17 tickets a day.That's one for every thousand cars that passes down this road.
Bennet has asked AAA motor clubs to reconsider their speed troop designation.
"We don't want to be a speed trap designation. We don't think we are a speed trap designation" says Bennet.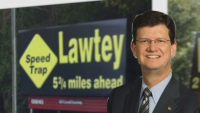 In a statement, AAA Vice President Kevin Bakewell says Given the abolishment of the Waldo police department and what appears to be more reasonable leadership in Lawtey, we are revisiting their designations.
"We want visitors to come through here, stop at our stores. And know that they are welcome and that they are not targeted" says the Chief.
One question AAA has asked. How many tickets go to locals compared to outsiders…Bennet says the answer is isn't a winner for the small town. Locals are outnumbers 17 to one on Lawtey roads every day of the year.
Lawtey's chief believes the city's future is growing its tax base through tourism and economic development, not making people mad by giving them a ticket. AAA says we will be the first to know if the speed trap designation is removed.
Posted in State News |

No Comments »