July 19th, 2017 by Mike Vasilinda
A 2015 law requiring women to wait 24 hours before having an abortion remains on hold tonight. As Mike Vasilinda tells us, a circuit judge in the state Capitol today gave the state 60 days to prove the state has a compelling interest in delaying abortions.
The 24 hour waiting period was passed and signed into law in 2015. It's been in court every since. In February the State Supreme Court chastised an appellate court for allowing the law to go into effect. It concluded the mandatory delay law infringes on a woman's right to privacy. Then it sent the case back to the trial level.
On Wednesday, Julia Kaye of the ACLU asked Judge Terry Lewis to rule the law unconstitutional.
"The only thing this law does is impose a one size fits all mandate that she must delay her procedure by 24 hours, even if she's ready" the ACLU Reproductive Freedom Project lawyer told the court.
But  Denise Harlee, Deputy Solicitor General asked for more time to gather evidence.
"We would like to look at facts from other states that do have a waiting period to show that women are changing their minds" Harlee told the judge.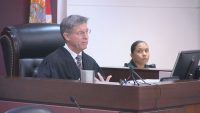 Judge Terry Lewis made it clear the state has a huge hurdle to prove the law isn't a burden on women.
"It's Been going on a long time. I think if I were in your shoes, I'd be ready a long time ago."
Still, he gave the state 60 days to prove its case.
"On the other hand, I think it's very important that whatever happens here. there is a complete record" said Lewis.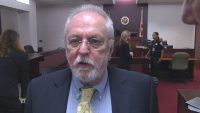 Richard Johnson, the attorney for Gainesville Woman Care, who challenged the law, thinks the writing is on the wall.
"It does seem like he wants to bullet proof what he's doing, and make sure that's it's just beyond challenge" said Johnson afterward.
Since 2015, the twenty-four hour wait has only been in effect  for about two months.
ACLU's Julia Kaye it's impact was still felt.
"And what we saw is that it caused tremendous harm" says Kaye.
Even after a likely October decision, the 24 hour wait is likely to remain in limbo as more appeals grind through the system
Florida's Constitution has a stronger right to privacy than most states and the US Constitutions. The ACLU argued the wait has had the biggest impact on poor women, forcing them to take extra days off work, find childcare and additional transportation.
Posted in State News |

No Comments »