September 13th, 2017 by Mike Vasilinda
Former Gator Quarterback Tim Tebow has been touring damaged areas of the state. He accompanied the Governor this morning to thank the efforts of those working in the state Emergency Operations Center. We asked what he would say to those losing hope that relief is on the way.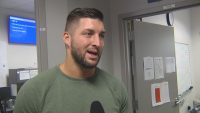 "There are a lot of people who are hurting. A lot of people have fear and doubt about the unknown, and maybe they've lost a lot of their possessions. But there people who love them and are praying for them, and are there to support them. And so we want people to know they are not in it alone. and that people genuinely love and care about them, and that's something that can be life changing" says the former star athlete.
Rick Scott got a laugh from the EOC staff introducing Tebow, saying he was there to answer questions about FSU football. As most know, Tebow played for FSU's arch rival, the Florida Gators.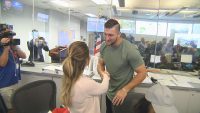 Posted in State News |

No Comments »