September 13th, 2017 by Mike Vasilinda
Many areas of the state are still without adequate gas, food and water, but as Mike Vasilinda tells us, The Governor, Emergency Management Director, and the head of the National Guard all say it is on the way.
Irma's sheer size has complicated relief efforts, leaving few places out of harms way to stage relief supplies.
We asked Governor Rick Scott  "Governor, what would you say to those folks who have perhaps lost hope because they haven't seen food, water, or gas yet, and they were expecting it?"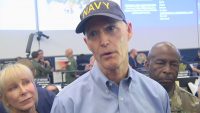 His response: "I think if you go all around the state, people are working hard to get it to everybody. You know, I tell everybody, we have a hot line here. It's 1-800-342-3557. Call us. You call us about anything and we're going to do everything we can to get you all the resources you need."
This time laps photography shows the frenetic activity of more than 100 people working long shifts to get supplies out into the state. These are the people who will answer the phone at the number the Governor wants you to call.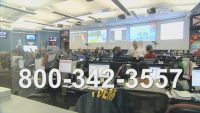 And planners say if you are not seeing the kind of relief you think you should be seeing in our neighborhood, it's because somebody else needs it more.
We also asked Emergency Director Bryan Koon:"People are looking for specifics. They are starting to lose hope. what do you say to them?"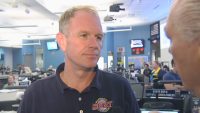 Koon responded: "I say all this room, the purpose of all the people in this room is to do everything we can to restore Florida back to normalcy. we're working on restoring the power. we're working on getting the fuel back in the ground."
And with the storm now gone, National Guard Adjutant General Michael Calhoun says relief is on the way.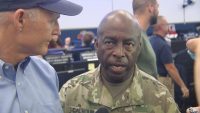 "I think the main effort we have today is have about 16 aircraft in the air, to sling low pallets down to the points of distribution, so the citizens can have something to eat, some water, some food, until power is restored" says the Commander of the State's National guard.
And buyer beware. As more businesses re-open, price gouging complaints are surging.
As of 9AM this morning, more than 9000 price gouging complaints have been received by the state, and we have been told the phone has been ringing off the hook again today. We are still waiting for the days totals.
Posted in State News |

No Comments »