September 27th, 2017 by Mike Vasilinda
A deaf Florida inmate who has been in prison for 36 years for a murder he, and his lawyers say he didn't commit lost his bid for early release today. As Mike Vasilinda tells us, a split decision will keep the murderer in prison, but not as long as the victims family would have liked.
Felix Garcia was 19 and deaf when he was charged with murdering a man in a Tampa Hotel. No sign language interpreter was provided at trial. Garcia got life, which back then meant 25 years before being parole eligible. Lawyer Reggie Garcia told the board considering parole, that Felix he had an iron clad alibi.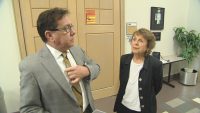 "A 19 year old man who was deaf, with a fourth grade reading equivalency, has served 36 years in prison for a murder he did not commit." says Garcia
What doomed Felix was his brother Frank and prostitute sister Tina. Both said he was there..then later recanted their story that Felix was guilty.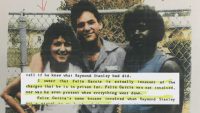 A third man pictured her was Tina's pimp, and likely the ring leader.
"good morning"
Three of the victims sisters made what has become a regular trip for them. Coming to the Capitol to make sure Felix Garcia stays in jail. Marie Tramotana Clark asked that the next hearing be delayed the entire seven years allowed by law.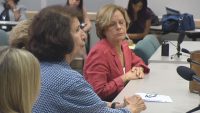 "A first degree murderer and robber should never be out" the sister told Commissioners.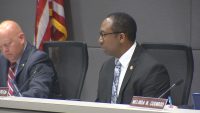 One commissioner said he had no question about guilt, but he wondered aloud what Felix has done to better himself.
Commissioners were split. One wanted five more years. Another wanted just three. They decided on three more years in prison. Garcia is still not guaranteed release at the next hearing.
The sisters would not share the photo of their brother they brought for the commission or talk with reporters afterward. Pat Bliss, the Paralegal who has worked pro bono for 22 years says Felix calls her mom.
"And God has given me Felix as my goal in life. To give this young man a chance" says Bliss.
The sisters did tell the commission they will keep coming back.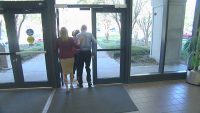 Felix Garcia was transferred last year to a prison in Virginia that specializes in helping special needs prisoners. It is the first time in 36 years that he has had a sign language interpreter to help him.
Posted in State News |

No Comments »