October 3rd, 2017 by Mike Vasilinda
Lawyers for a man convicted of two murders more than 30 years ago are expected to ask the US Supreme Court to stop his scheduled execution, arguing his jury was not unanimous in recommending death.  As Mike Vasilinda tells us, the condemned man spent an hour today talking with reporters.
Michael Lambrix has maintained his Innonence for 34 years. Set to die Thursday, he told his story again to a dozen reporters, the first group interview at the prison in more than a decade.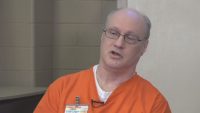 "It won't be an execution. It's going to be an act of cold blooded murder. And the State of Florida is going to be deliberately putting to death an innocent person" claims the 567 year old Lambrix.
Lambrix claims he killed the male victim in self defense after he found him strangling the 19 year old woman. He met both earlier that February 1983 night in a bar. He didn't go to police because he had walked away from a prison work camp.
" And I really should have told them exactly what happened right up front" Instead Lambrix ran and didn't tell police anything, invoking his fifth amendment right when caught days later.
No physical evidence ties Lambrix to the murders…the first jury was hung. During the second trial, the state's top investigator allegedly slept with the states key witness.
"It's like banging your head on a brick wall. It really is. The thing is, nobody wants to listen" says Lambrix.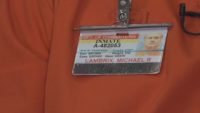 What makes his case unusual is that neither vote for death was unanimous. Lambrix's problem is that his crime was so long ago.
"Myself, and everybody sentenced to death since 1974 that anything less than a unanimous jury verdict were illegally and unconstitutionally sentenced to death"
For 34 years Michael Lambrix has maintained his innocence, even turning down a plea deal. His family has stood with him every minute of it.
For a final meal, Michael Lambrix has asked for a traditional Thanksgiving dinner He says its the same meal his mother promised him if he was ever set free.
A visitors list shows more than thirty people authorized for the final days. It includes Lambrix's mother and two of his four children.He's asked them not to bring his seven grandchildren.
Posted in State News |

No Comments »