November 15th, 2017 by Mike Vasilinda
Florida lawmakers are moving ahead with plans to replace the statute of a Confederate General representing the state in the US Capitol with that of a civil rights icon and educator, As Mike Vasilinda tells us, the move is not with it's critics.
In 2016 lawmakers voted to boot Confederate General Edmund Kirby Smith from Statutory Hall in the US Capitol. Smith became one of two statues representing the state in 1922. The other is air conditioning inventor John Gorrie.
Months later, a special committee narrowed more than 130 recommendations down to three. Civil Rights Icon Mary McLeod Bethune was the top vote getter.
At the time, Daisy Grimes was a special assistant at Bethune Cookman University.
"She stood bold for what she believed in. And she believed in this country. She believed in the goodness of this country and what it could be" said Grimes.
Lawmakers dodged the change last session. Now it's back.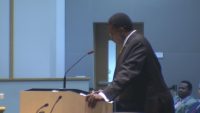 Sen. Perry Thurston is the bill sponsor.
"Dr. Bethune served as the first African American woman to head a federal agency" he told fellow Senators.
Opponents, like Don Russ of Jacksonville, tried to convince budget writers that keeping Smith was a way to remember history.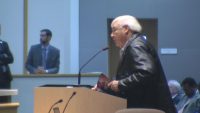 "I got to tell ya, you need to reconsider what you are doing" Russ told Senators. He later stormed away from the podium after accusing Chair Rob Bradley on not listening and already having his mind made up.
Only Dennis Baxley voted no. His Great-Great-Great Grandfather was a poor farmer who fought for the south.
"I'm very concerned what this does to us as a culture, we go through cultural purging" said Baxley before the vote.
Supporters of Kirby Smith say if he is indeed removed from the nation's Capitol, he ought to be brought home here to Tallahassee to the old Capitol.
David McCalliser of the Sons of Confederate Veterans in Tampa wants Smith brought back to Florida.
"We need to turn this into a positive thing and respect our veterans."
Who would pay to replace Smith, or bring him back to Florida, aren't addressed in the legislation.
A 2016 estimate says it will cost $388,000 to replace the Kirby Smith statue,  which includes bringing Smith back to Florida.  The 2016 law replacing him suggested the money would have to be raised privately.
Posted in State News |

No Comments »