November 30th, 2017 by Mike Vasilinda
A 35 year old State Senate employee has identified herself as the person who filed a complaint against Clearwater Senator Jack Latvala.  A written copy of the complain six instances she say the Senator touched her, but as Mike Vasilinda tells us, Latvala has released dozens of text messages that paint a complicated picture.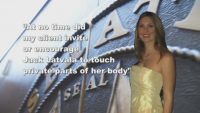 35-year-old Rachel Perrin Rogers has come forward saying she is the woman who filed a sexual harassment complaint against State Senator Jack Latvala. In a statement provided by her lawyer she says:
"The confidentiality that I was promised under Florida law has been violated. I am fearful of the effect that this unethical action will have on other victims."
The Clearwater Senator  countered by providing more than 130 text messages between the two, some work related, others political, some friendly.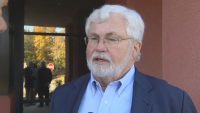 "She obviously communicates with me unsolicited on a very frequent basis and has for four or five years. Has invited me and asked me to meet with her alone" Latvala told us.
In one message, Rogers tells Latvala there's BBQ for lunch in her office. He says save me some, she responds with a plate and smiley face, and in another she says she donated to Latvala's reelection effort. Perrin Rogers husband, Brian Hughes, is a political consultant.
"I believe it's all political" says Latvala.  "I don't think there's an accident that out of 200 female employees in the Senate the one who has purportedly filed a complaint against me, is the wife of a political consultant. I don't think it's an accident."
Citing the confidentiality of the investigation, the Senate President's Office says it has no comment about these text messages.
In a response to the text messages Perrin Rodgers' attorney tells us:
"At no time did my client invite or encourage Jack Latvala to touch private parts of her body. At no time did my client ask to be subjected to verbal or physical harassment."
Latvala spent three hours with the special master investigating the case on Wednesday. Perrin Rogers has a Friday appointment. Meanwhile, the Senate President was meeting today with outside lawyers hired by the Senate.
Posted in State News |

No Comments »