January 5th, 2018 by Mike Vasilinda
If the 2018 elections are to be a referendum on President Donald Trump, as many say, Mike Vasilinda tells us the latest entry into the race to be Florida's next Governor thinks Trump's support makes him a winner.
Ron DeSantis has represented Florida's mid east coast in Congress for five years. He announced his gubernatorial bid on FOX news.
"And with the support of the President, I'm in a position where I can exercise the leadership to build on the great work Governor Rick Scott has done to advance economic opportunity, reform education, and drain the swamp in Tallahassee, which needs to be drained, just like Washington" DeSantis told viewers.
Days before Christmas, DeSantis got a ringing endorsement from Donald Trump, who tweeted he would be a great Governor.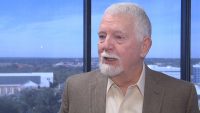 "I think it pretty much upsets the whole applecart" says GOP political consultant Mac Stipanovich.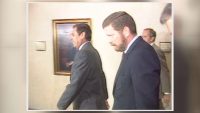 Stipanovich has helped elect GOP governors in Florida before. He believes DeSantis will force more mainstream Republican Adam Putnam to the right.
"DeSantis will be a right…crazy run over a dog in terms of right wing populism. He will pull Adam to his right, as Adam tries to compete for that Trump vote" says DeSantis.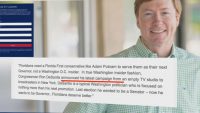 In a statement, Putnam's campaign criticized DeSantis for making his announcement in a tv studio.
And if the GOP primary does take a hard turn to the right, the likely beneficiary: the Democratic nominee".
Democrat Gwen Graham quickly called DeSantis "out of touch and too extreme for  Florida.
But the race is still 11 months away. The question is whether support for Trump is enough to drive Democrats to the polls.  Typically Democrat turnout drops y more than a million voters in non presidential elections.
DeSantis and Putnam are the two key contenders for the GOP nomination. House Speaker Richard Corcoran is also expected to enter the race when Florida lawmakers go home in March. Embattled former state senator Jack Latvala remains in the GOP race despite resigning in over sexual harassment charges in December. $ Democrats are serious candidates for their party's nomination.
Posted in State News |

No Comments »