January 10th, 2018 by Mike Vasilinda
Governor Rick Scott delivered his eighth and final State of the State speech today to open the annual legislative session. As Mike Vasilinda tells us, he is pushing for the largest budget in state history.
"Let the Governor be received." Chimed the Senate President.
For Rick Scott, his final State of the State address was bittersweet…evoking rare bit of humor from the Governor.
"I know how disappointed you all must be that you won't get to hear another great speech like this" Scott said to laughter.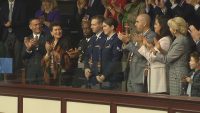 The Governor shared credit for creating a million and a half jobs since taking office.
"The results speak for themselves."
Scott is also proposing the smallest tax cuts in his 8 years. Just 180 million. He wants a a three week sales tax holiday for hurricane and back to school supplies.
"After the storms we experienced last year, we need to have a longer sales tax holiday so people have time to buy the supplies they need."
He's also proposing a cut in the cost to renew a drivers license. From 48 to 20 dollars.
"My dad was a truck driver and if he had  extra money back in his pocket, in my family that wold have been a big deal."
The Governor is also calling for more protection for sexual harassment victims It comes as two married State Senators admitted to an affair captured on video.
"It's very important that we all stand together and send a very strong message. Florida stands with victims."
One of the first fights lawmakers are likely to face is over school funding.
Scott is pushing a nearly 3 percent increase in school funding. He finances it with the case from higher property tax values, but House Speaker Richard Corcoran is drawing a line in the sand.
"The Florida House will never support raising taxes."
The school funding has the potential to be the most divisive issue of the coming 60 days.
Budget tensions are especially high this session after Hurricane Irma depleted most of the extra tax revenue the state was expecting this year. Economists will make a new estimate in mid February which will determine the final budget numbers.
State of the State Package Script:
Posted in State News |

No Comments »