January 18th, 2018 by Mike Vasilinda
Two FSU Fraternities have been suspended for hazing violations and violating the universities ban on greek activities. As Mike Vasilinda tells us, the violations occurred both before and after the death of a 20 year old pledge which resulted in 9 frat members being charged with felony hazing.
Alpha Epsilon Pi was found responsible in four out of five incidents. They include humiliating pledges during a a six week period and not supervising a party in which a woman was found unresponsive at 4:30 in the morning.
The fraternity is suspended for four years.
"I am imposing an indefinite interim suspension on all fraternities" FSU President John Thrasher announced on November 6th.
Four days after the university suspended all greek activity,  FSU police found 50 members of The Chi Phi Fraternity violating the ban. They were in their underwear at 3 in the morning at the fountain in front of the administration building. It is suspended for two years.
Neither fraternity responded to a request for a comment.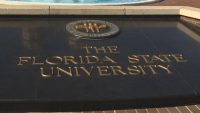 At a trustees meeting In Panama City, we asked FSU President John Thrasher if the cases would be referred to prosecutors.
"If the State Attorney or somebody makes a complaint to the State Attorney  , he would would make a decision on whether there would be any criminal charges made, or to make and govern himself accordingly" says Thrasher
Gainesville State Senator Keith Perry, who sits on the Higher Ed Appropriations Committee says they culture has to change.
"So how do we break that, how do we understand, and I'm not sure what the answers are, but I know we need to do more" says Perry.
Attorney General Pam Bondi agrees.
"They've got to get their act together and if they are going to be on a campus, they have to abide by the law" Bondi told us.
But apparently the Greek community hasn't gotten the message.
All organized greek activity remains banned on campus.
Posted in State News |

No Comments »